Build Your Own Video Display Package
Loading Price
From $343.10 Regular Price $378.50
To $2,551.45 Regular Price $2,863.00
Package Includes
Package Includes:
• Your selection of Video Display (monitor, screen and/or projector)
• Accessories
• Custom technology set-up/removal service
• On-call tech support

Design a custom video solution that's custom-tailored to your specific needs. First, select the video display package best suited for your event. Next, choose from our list of popular video support products. Simply click "customize and add to cart" to begin creating the specialized meeting experience that will effectively communicate your message.
Choose one of the four video display packages:
Deluxe Screen and Projector Package (Ideal for up to 100 participants)
Tripod Screen and Projector Package (Ideal for up to 50 participants)
55"-77" Monitor Package (Ideal for up to 20 participants)
Tripod Screen for your Projector (Ideal for up to 50 participants)
Select the additional video support products that best suit your event's unique needs.
Laptop
Web Camera—to connect to your remote attendees
Clickshare—to easily switch between multiple presenters
*This package includes an appropriately sized video display and required accessories to operate your selected video products.
*Onsite support is available on call throughout your event.
*Your package will be set and tested one hour prior to your meeting start time.
*Laptop rental is not included with the base video package and must be selected from the list of additional support products.
*If you don't see what you need for your event, please call 888-595-0607, or click on the chat icon to connect with a representative during office hours, 9a-5p CST, Monday-Friday.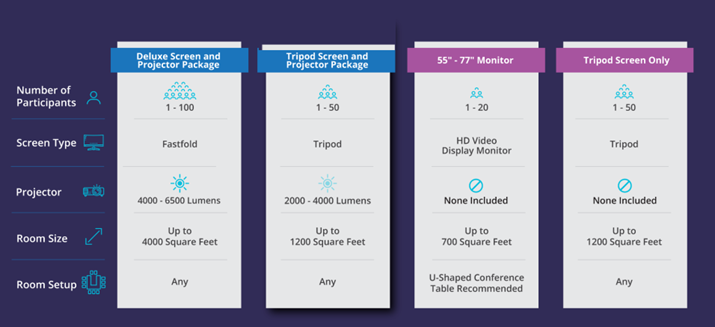 More Information

| | |
| --- | --- |
| SKU | P382 |
| Room Size | Small, Medium, Large |
| Number of Participants | 0 - 25, 26 - 100 |
| Meeting Type | General Session, Meeting, Meal, Office, Other, Sponsorship, Social Event |
| Price | $0 - $500, $500 - $1000, $1000 - $2000, $2000 - $4000, $4000 - $5000 |
| Event Type | In-person event without remote participants, Hybrid event with in-person and remote participants |
| Show In Production Show | No |
| Power Drops | No |